Weather News – Where is it snowing? Southern Australia wakes from a wild winter's night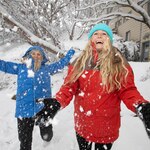 Where is it snowing? Southern Australia wakes from a wild winter's night


Thursday June 10, 2021 – 00:26 EST


Snow, rain and wind. It sure was a wild night for much of the south-east. 
– ABC


Australia's south-east has endured a wild night of winter weather with high winds, heavy rain and widespread snow. 
The weather has been the result of a fierce low pressure system following a cold air mass from the Southern Ocean which came up earlier this week. 
Wind gusts of more than 120km/h caused havoc in Victoria. 
Gusts of 124 km/h were recorded at Hogan Island and and 115km/h at Wilsons Prom, Gippsland.
The rainfall…