Weather News – 'Ferocious' storm destroys large patches of central Victorian forest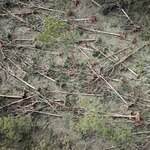 'Ferocious' storm destroys large patches of central Victorian forest


Thursday June 17, 2021 – 05:00 EST


Storm damage in Bullarto, central Victoria.
– ABC


A week after ferocious winds damaged swathes of forest in central Victoria some locals are saying it is the worst storm damage they have ever experienced.
Resident Lily Langham said in the 35 years she had lived near Daylesford she had never seen anything like it.
"It looked like a logging coup," she said.
After driving through forest south of Daylesford to survey the damage, she said the one positive was hearing birds had returned to the forest.
The Bureau of…